SOCCER PICTURES ARE TOMORROW, APRIL 10th. We apologize for the change again, however the weather is showing no rain in the am and there would be a conflict with baseball/softball pictures if we had on the 17th. Schedule is as follows: 8:30 Hannah Trucking 8:45 Longs Retreat 9:00 Life Change Church 9:15 Mopshop 9:30 Guilkey Trucking. 9:45 Sunfish Valley Whitetails. 10:00 Latham Auto Parts 10:15 Williams Hardware Packets will be available at the time of pictures. Please arrive 10 minutes before scheduled time.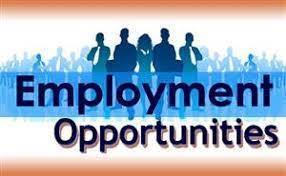 Updated 4/8 JH baseball schedule 2021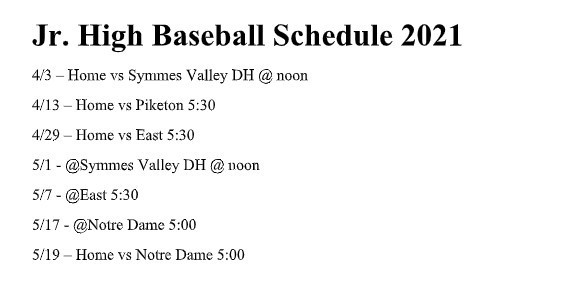 This is our current JH baseball schedule. Please keep in mind that this is a work in progress. Because we haven't had an established program (this is our first team in at least three years) we weren't able to get in either of the local leagues. We are building the schedule as we go because most teams have limited availability due to league commitments. The schedule may change due to make-ups from those league commitments. We are only able to schedule games when our local teams aren't already committed. I will update the schedule immediately as games are added.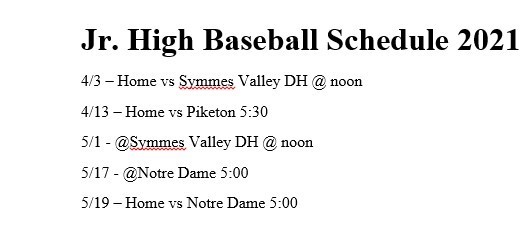 Although our printed schedule says that boys and girls are both at Clay the boys game will actually be at home. Clay changed the venue because their baseball and softball fields are at different locations. The kids are aware but I wanted to make sure any fans who may want to come know the boys are at home and the girls are at Clay tonight.

Clarifying the earlier message - this is not the Covid vaccine. These are the regular vaccinations students have been getting for years. If you have any questions please contact the school nurse at 740-493-2881. Again, this is not Covid related!!!!

Letters were sent in the mail Friday to all Students going into 7th and 12th grade next year and describes the requirements to receive vaccines for school in fall. Our SOMC western family practice will be offering a vaccine clinic on April 8th and 9th so that students can receive the vaccines. If you would like for your student to get the required vaccines please fill out the forms that were mailed home and return them to the school ASAP. No vaccines will be given unless a form is returned. If you have any questions please call the school nurse.

We ARE having school on Friday, April 9. Next Friday, April 16, will be our last blended learning day of the year and hopefully for all of eternity!! Looking forward to having everyone back tomorrow. Enjoy your last day of break.
No youth soccer practice this evening due to wind chill temperatures. Reminder: first games this Saturday.

Spring sports schedules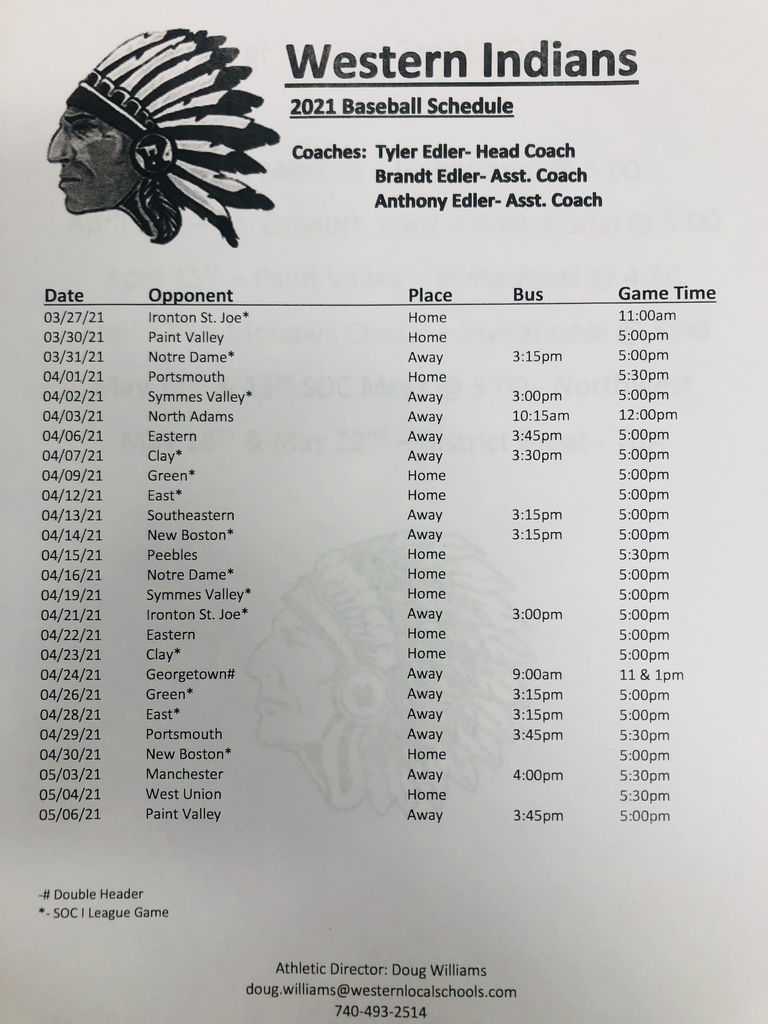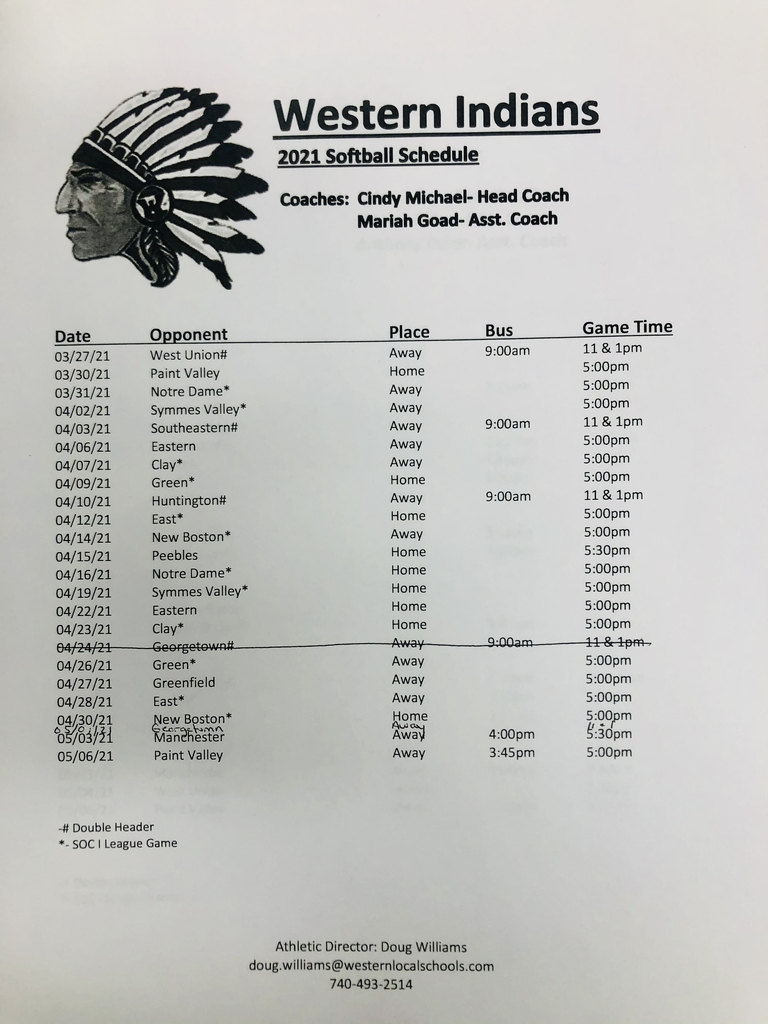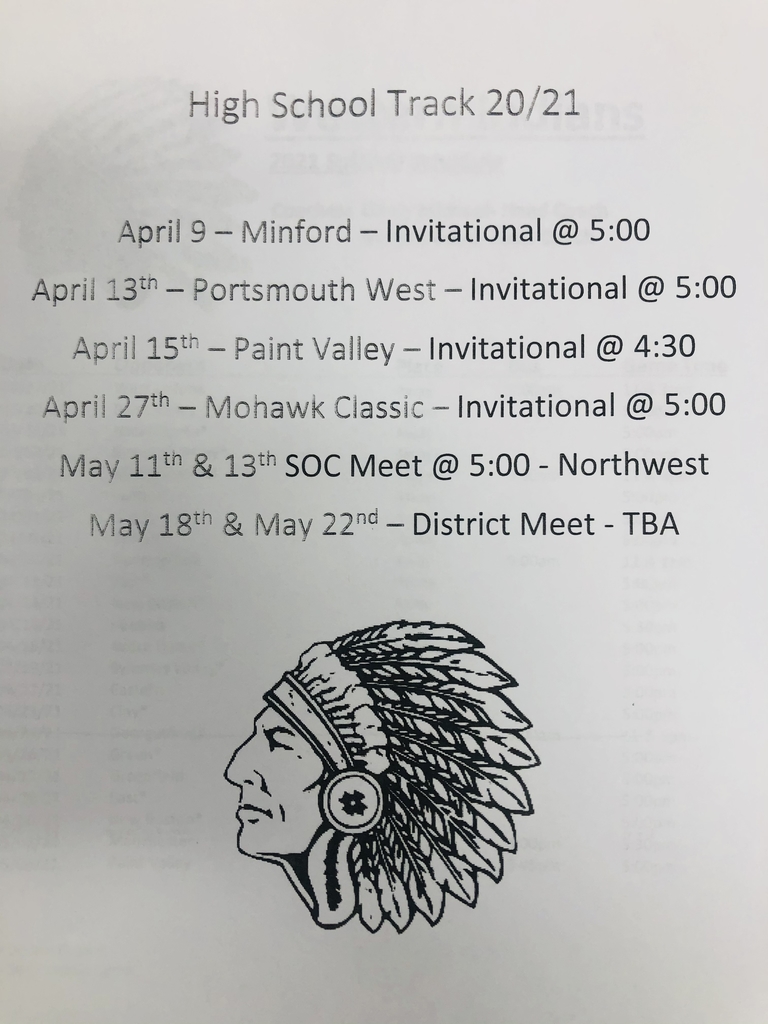 WHS third nine weeks honor roll! Congratulations to our students!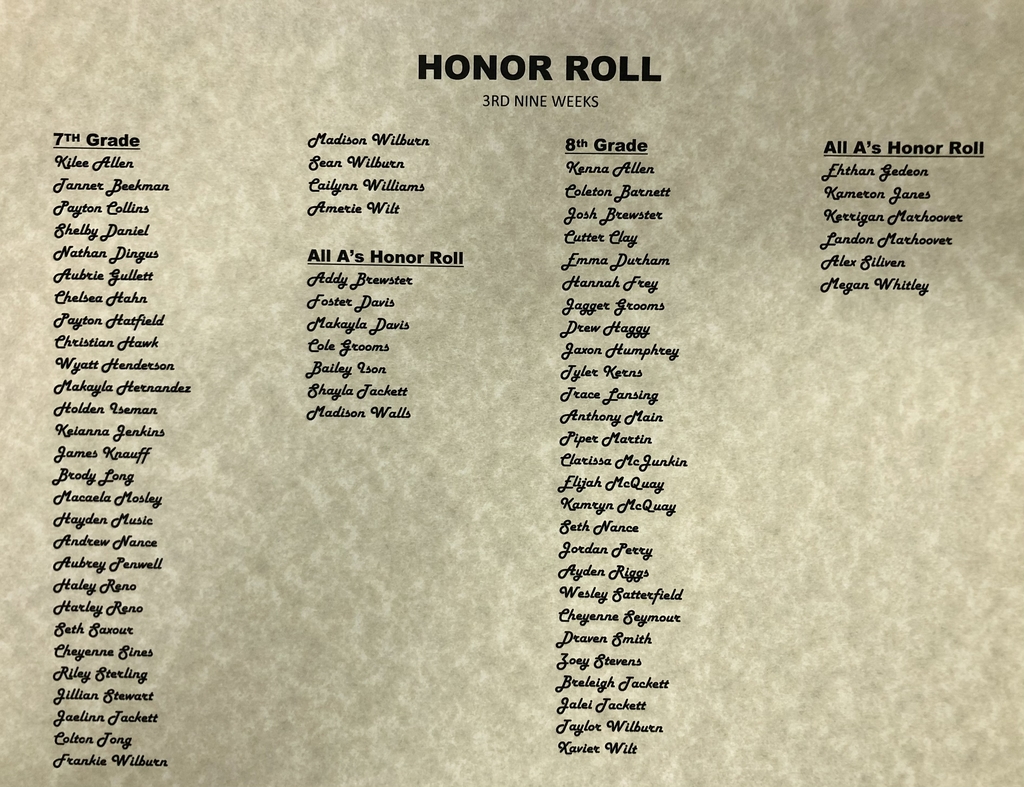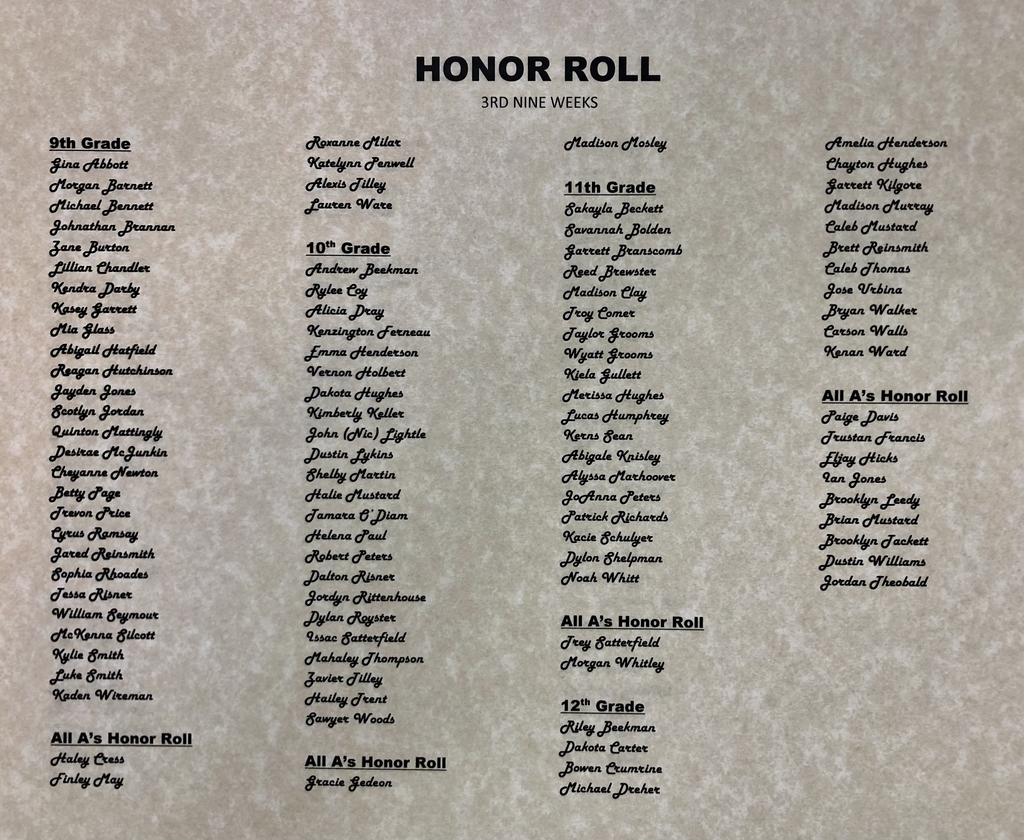 Reminder: All Prom t-shirt money and orders must be turned in by Wednesday.

Please remember if your student wants spring pictures, they will be taken tomorrow at 8am. Picture forms are in the high school office.
Reminder: Easter break starts Thursday, April 1st. Students will return Wednesday, April 7th.

Reminder: Winter athletic sports banquet Tonight 3/25 Location: High school gym Winter High School Sports Banquet Reminder Girls Basketball 5:00 Cheer 5:30 Boys Basketball 6:00 This is not a normal Winter Banquet that we are used to. We are still under COVID restrictions. Attendance should be limited to immediate family. Each team will have 30 mins of recognition and social distancing will be practiced. Snacks and refreshments will be provided upon entrance.

Prom tickets are now on sale in the high school office. Please see Rachel Henderson or Tara Reed for tickets. Tickets are $33 for a couple and $18 for a single. Tickets must be bought by May 7.
Reminder to all 2nd-6th grade students who signed up to play soccer. You need to be at the high school track at 10 o'clock today to meet your coaches and have a short practice. If you didn't sign up but want to play, you can sign up this morning at 10:00. The cost is $10.

Last call for senior pictures!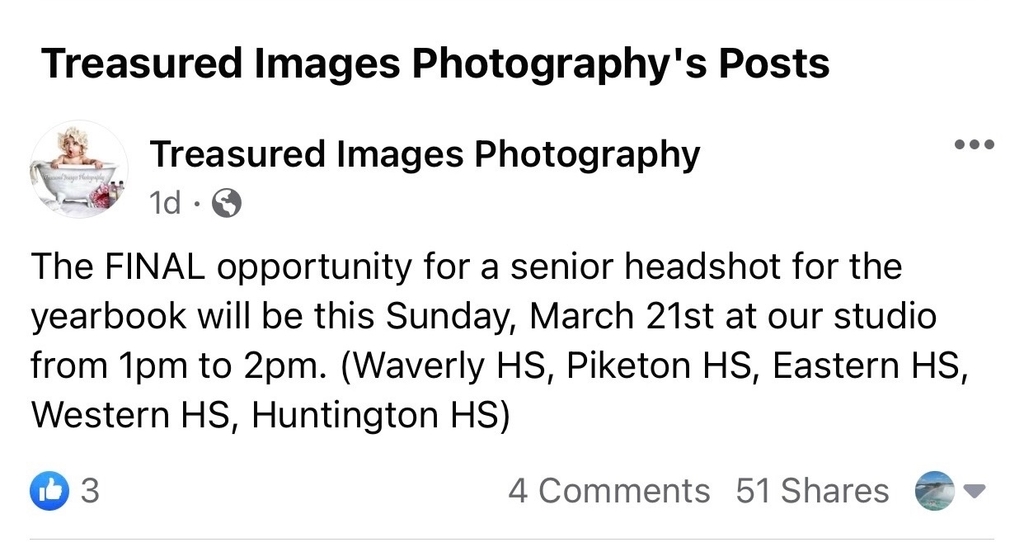 Spring Sport Pictures for Softball, Baseball, Track will be Wednesday, March 31 starting at 12:30. Order forms will be passed out by coaches. Payment due day of pictures.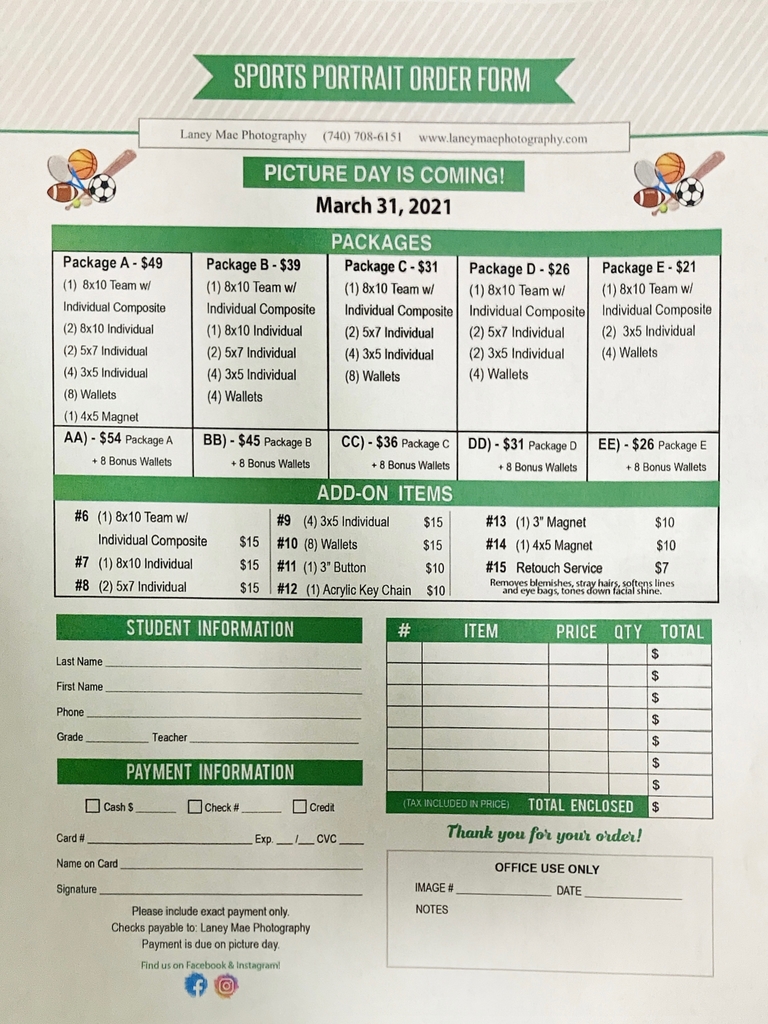 Spring Pictures for High School are Tuesday, March 30 Picture forms in office. Payment due day of pictures.