HS Mifflin Tribe project: Contact -Rebecca Fite This is a group class project where you can donate toiletries to put inside the bags. This can include toothpaste, toothbrush, loofahs, diapers, wipes, deodorant, hairbrush, hair ties, combs, feminine hygiene products.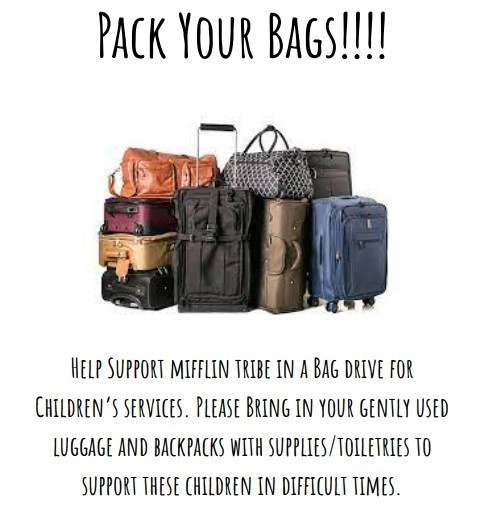 Fill out your form. Chance to win $50.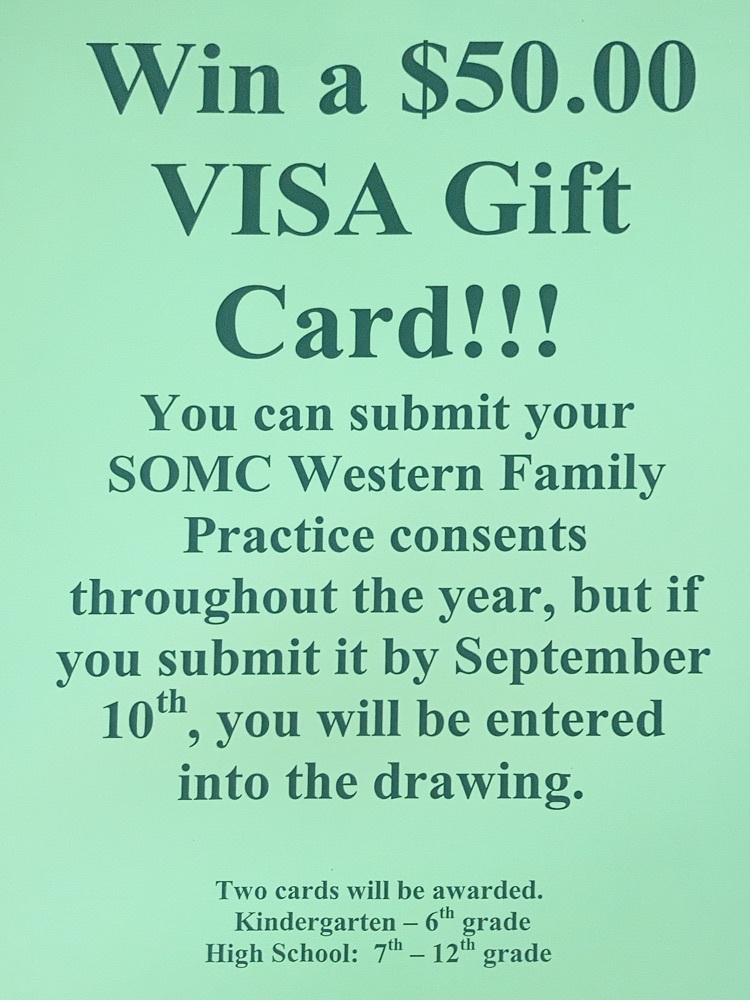 Community Action food pick up today at Williams Hardware until 3 PM.

New names you will be hearing in our Western Community.

Meet the Team Thursday August 19th 6-8pm @ Western High School Fundraiser for Western Volleyball Boosters *To go box style dinner $10 ~Chicken Noodles ~Mashed Potatoes ~Roll *Water $1 *Desserts $1 Please spread the word!! We hope you ALL will come out and support our Volleyball Program and meet the 2021-2022 Lady Indians!!!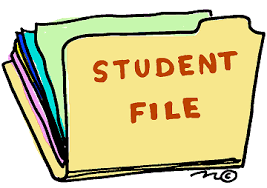 Just a reminder are not using the water fountains again this year but we do have water stations for students to fill up water bottles. Please send a refillable bottle or water bottle with your child. We apologize if you were unaware of this. Thank you.

Fall Sports Schedule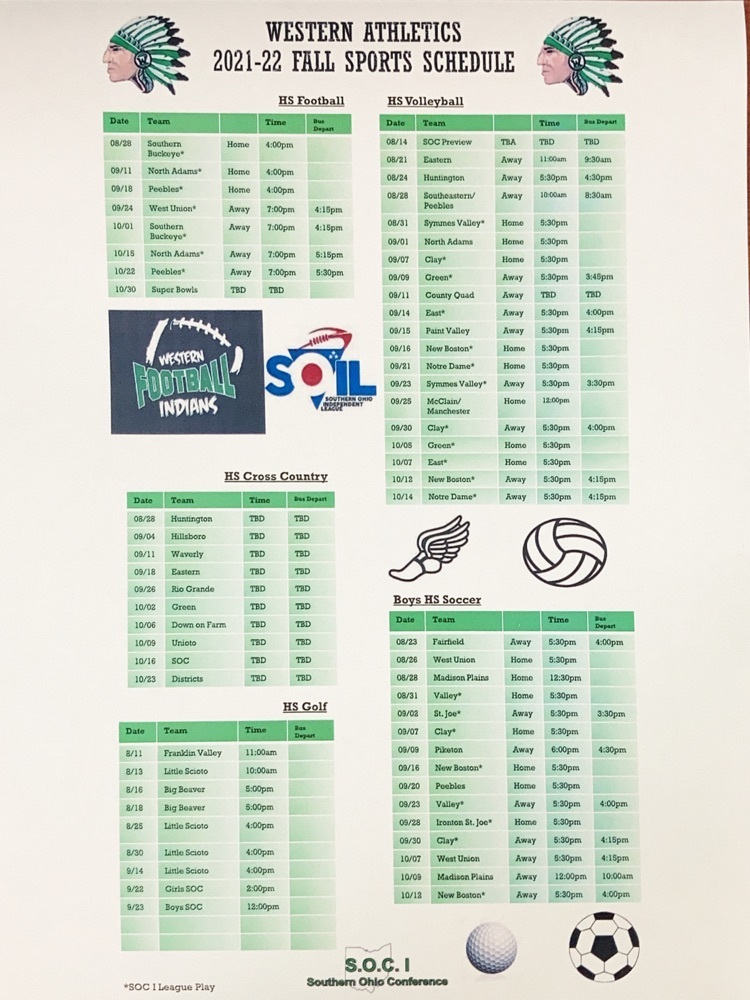 District Lunch Menu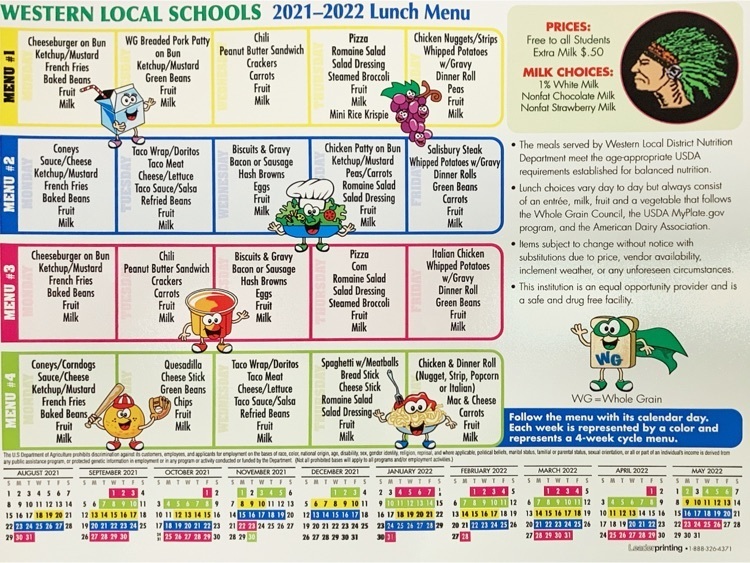 School Calendar 2021-22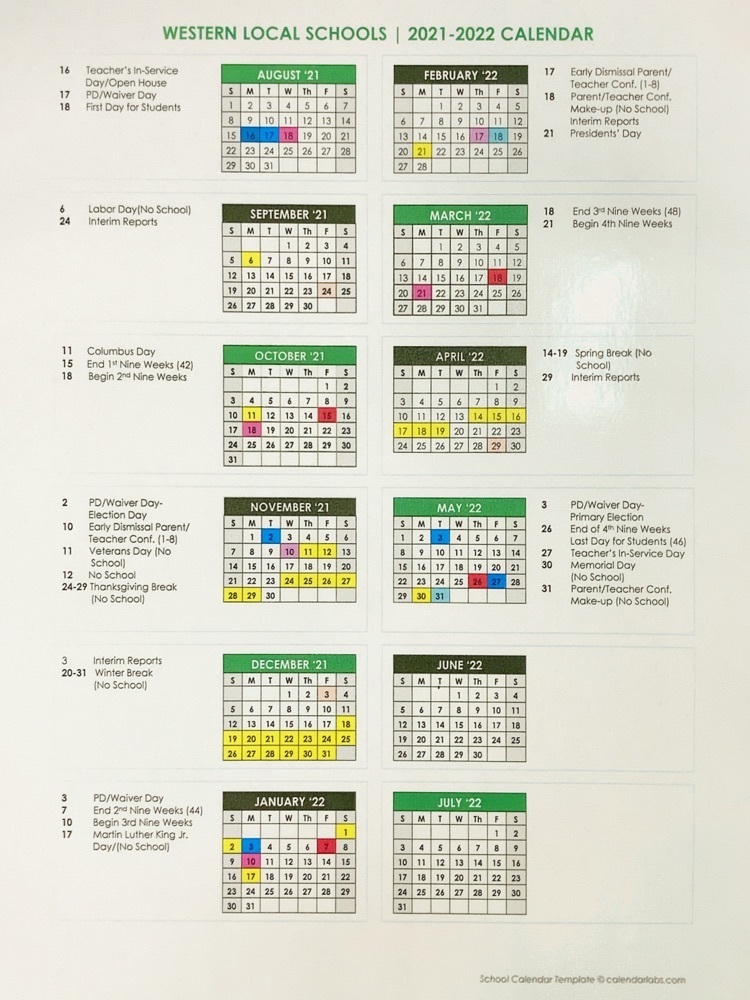 I explained this in the voice call but I know not everyone gets it. Our air conditioner is still not working. The temperature at 3 o'clock today was 78.5 with the warmest classroom being 80 degrees. It's going to be about eight or 9° warmer than normal in the classrooms and a little sticky. The high tomorrow is only going to be 80 so it shouldn't get above that because we will be cooling it all night with the outside air. Students should dress as cool as possible while staying within dress code guidelines. The new system has been ordered and paid for and is on the way. Hopefully it will be hooked up before the end of the week.

Here is a link to the student forms we have available online. The following back-to-school forms are editable online in Microsoft Word. They can't be done on your phone or in Google Docs. Download the form in Word and save it and email it to the appropriate email addresses.
https://www.westernlocalschools.com/page/student-forms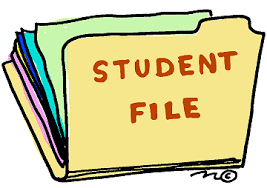 JH cheerleading information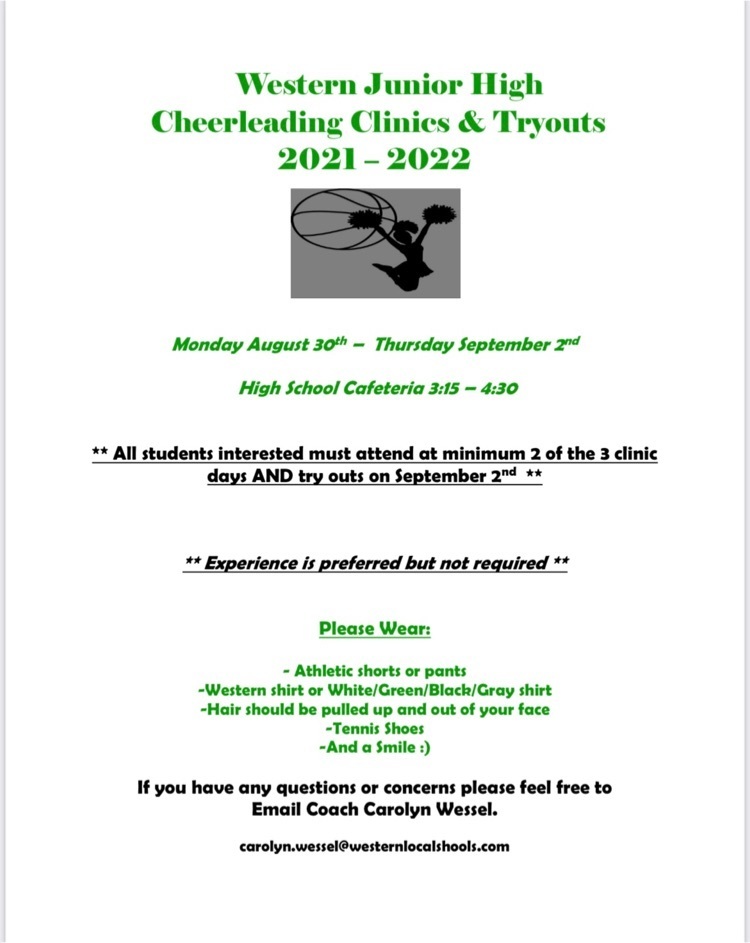 Friday, Aug.13th-No high school soccer preview or football practice due to bad weather.

Community Action food pickup available at Williams Hardware until 3 today.
Primary in elementary open house information Our open house will take place on Monday, August 16 from 3:00-6:00. Students in kindergarten through 2nd grade will be by appointment only. If you have not heard from your child's teacher by Monday at 11:00 please call the school at 740-493-2881. For students in grades3rd through 6th your open house times are as follows: 3rd 4:00 4th 4:30 5th 5:00 6th 5:30 At your schedule time families with the student will be permitted to go into the gym where the principal and teachers will go over important information for the upcoming school year. At the conclusion of the meeting students ONLY will be permitted to go with their homeroom teacher to their classroom. We are asking only two family members per student to attend. When your student returns to the gym we ask that you leave immediately and not roam around other parts of the school. Letters were mailed out two weeks ago with this information, however if you do not receive your letter we apologize.

Western Elementary will be offering our latchkey program again this school year. If you are interested in more information regarding our latchkey program, please contact the elementary office at 740-493-2881 or visit our website and select the elementary tab, then click on Latchkey Program. Thanks!

Jr. high volleyball mandatory conditioning and practice starts tomorrow 5-7:30.

Jr high volleyball mandatory conditioning and practice will start August 9th 5-7:30 All players must have sport physicals by August 16th. If you have questions please contact Misty.
Open House information for Western High School: Open house will be held on Monday, August 16th. Open House for students entering grades 9-12 will be from 4:00-5:00 in the gym. Open House for students entering grades 7-8 will be from 5:00-6:00 in the gym. During this time students can pick up schedules, school forms, get locker numbers, etc. This will also be a time where the teachers and administration can answer any questions you might have. If you have any questions, please contact the high school at 740-493-2514.