I apologize for the late notice. Teresa's bus 18 kids will be arriving home about 25 minutes later than normal. We had to double route her bus this afternoon

Board meeting 4/11 in room 101 @ 6pm
Softball Fans: The game is cancelled. Spell check change NOW to NOT. Sorry for the confusion. #tribepride
Softball Fans: East just contacted me and it has started to Rain there. The game is not cancelled. We will work on a makeup date. #tribepride
Baseball Fans: Due to unforeseen lack in number of players, the JV games tonight, Tuesday and Thursday are cancelled. For now, the JV game at McClain on Friday is still on. As soon as I know about the weather for tonight's varsity games I will let you know. #tribepride

The last day to order Prom tshirts is this Wednesday, April 13. Cost is $13. T-shirt's can be ordered through the high school office or ctc office. Prom tickets are also on sale now through the high school and ctc offices. The cost is $32 for a couple or $18 for a single. Tickets will be on sale through Monday, April 25. There will be no tickets sold after this date.

Eddie Robbins Memorial Scholarship added to Senior Tab. Due to Mrs. Schuler on April 20.
Baseball Fans: St. Joe just let me know that the game this evening will be cancelled. We will work on a makeup date. Weather does not look promising this weekend, but for now the Clay game tomorrow is still on as scheduled. #tribepride
Reminder: Due to the amount of kids going on the YLA trip this weekend, tonight's JV Baseball, HS Track; Friday's Softball and Saturday's Softball DH are all cancelled. Varsity Baseball will still be in action tonight and tomorrow barring any more weather. #tribepride

We are sending two buses out from the school right now to pick up students who normally ride bus nine. Since we are doing two buses it won't take nearly as long so the buses will start picking up kids within the next 10 minutes.

Due to an unexpected call off this morning we will have a double route bus nine Donna. We will be sending out the first bus that gets to the school. First pick up should be approximately 45 minutes later than normal. I will send a message out when I get an exact time. Sorry for the inconvenience.
Congrats to Chloe Beekman on being WHS's Student Athlete of the Month. Chloe is a senior shortstop for our Lady Indians' Softball team. Chloe has been a leader for multiple sports at Western High School this year. Thanks for all of your time and effort Chloe! #tribepride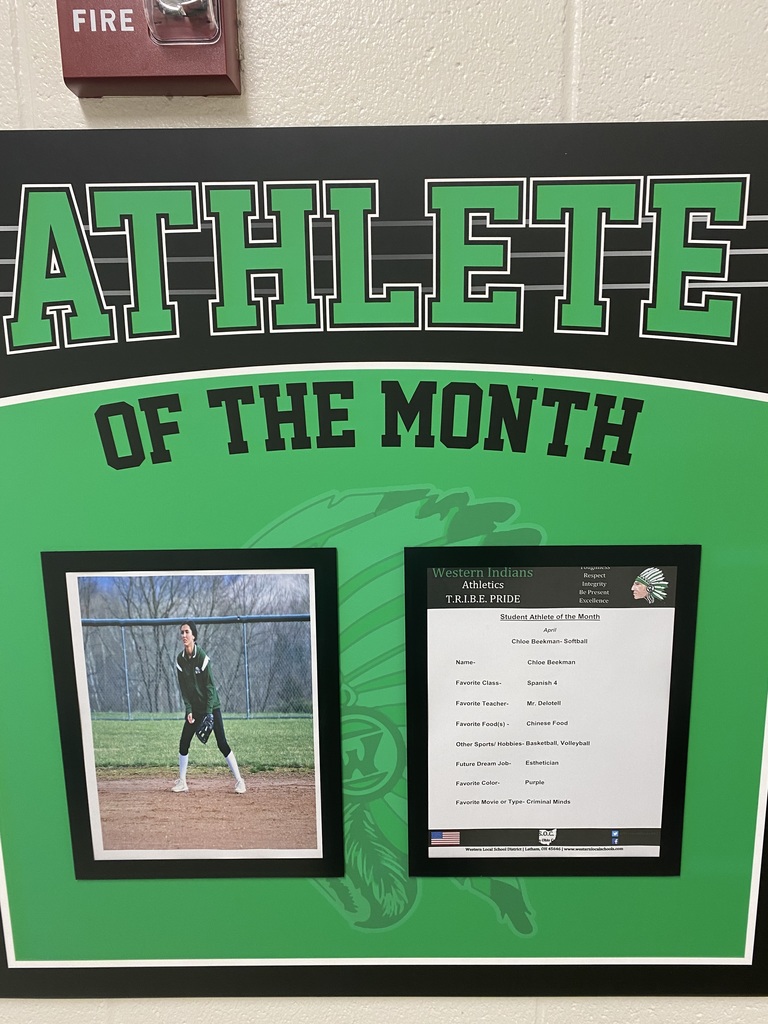 Baseball and Softball Fans: Tonight's games at Symmes Valley are cancelled due to weather. We will work on a make up date. #tribepride
Baseball and Softball Fans: The games tonight at Eastern have been cancelled due to weather. #tribepride
Western Fans: Tonight's JV Baseball Game at home and Track meet at Piketon are both cancelled due to weather. #tribepride
Baseball Fans: Due to the YLA trip on Thursday the JV Boys Baseball game against McClain is cancelled. With the Varsity playing the same night, we will not have enough boys to play at both sites. #tribepride

2022 Prom Information Prom will be April 30, 2022 at Western High School. Grand March will begin in the high school gym at 6:00 pm. Prom Tickets are now on sale and will be on sale until Monday, April 25 th . Tickets have been taken to the CTC and a Western representative will be at the CTC on Monday (April 25) to collect ticket money (there will be no tickets sold after this date.) The cost of a single ticket is $18 and a couple's ticket is $32. If you wish to participate in Grand March, please write "yes" beside your name when you purchase tickets. **There will be no late additions to Grand March** Prom Times: Grand March 6:00-6:30 Pictures 6:30-7:00 Dinner 7:00-8:00 Dance 8:00-10:00 After Prom 10:00-11:00 **After Prom will be at the high school**

Academic Signing Day at Western High School Western High School is hosting an Academic Signing Day to celebrate the Senior Class of 2022 making the important decision to enroll in a college, branch of the military service or other postsecondary institution or career training. On Wednesday, May 4 at 2:00 p.m. we will honor our seniors as they pursue their dreams of education beyond high school. Graduating seniors are invited to attend and encouraged to celebrate the postsecondary institution of their choice. Seniors that wish to participate in the signing must have a 2.50 GPA and have met the State of Ohio graduation requirements for the Class of 2022. Seniors must provide a letter of acceptance from the college or career training they have chosen to attend. Those intending to participate must also signup by April 26th in Mrs. Schuler's room (301). Family members are invited and encouraged to attend. Academic Signing Day will begin promptly at 2 pm in the high school gymnasium. If you have any questions, please call or see Mrs. Schuler.

Track 2022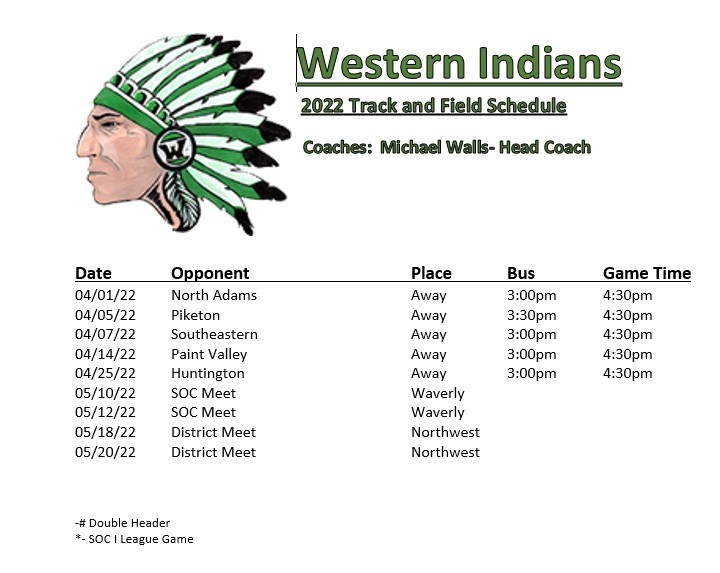 Junior High Baseball 2022