If any student needs two extra tickets for graduation seats for a total of eight tickets, please contact the high school office or message the high school Facebook page by this Friday at the end of the school day. Thank you.

Reminder: tonight is the high school academic awards banquet which will be held in the high school gym at 6 PM for those who received an invitation.

Important College Credit Plus Announcement. Shawnee State University has extended their application deadline to Wednesday May 19th. The application is online! Thank you!!

All students and families attending prom tonight, please park in the back parking lot and enter through the back doors. As a reminder, students participating in Grand March must be at the school between 5:45-6:00. Students not participating in Grand March must be at the school by 7:30. Please remember that due to COVID, only families of the students that are attending prom and have turned in Grand March forms may attend Grand March.

Prom information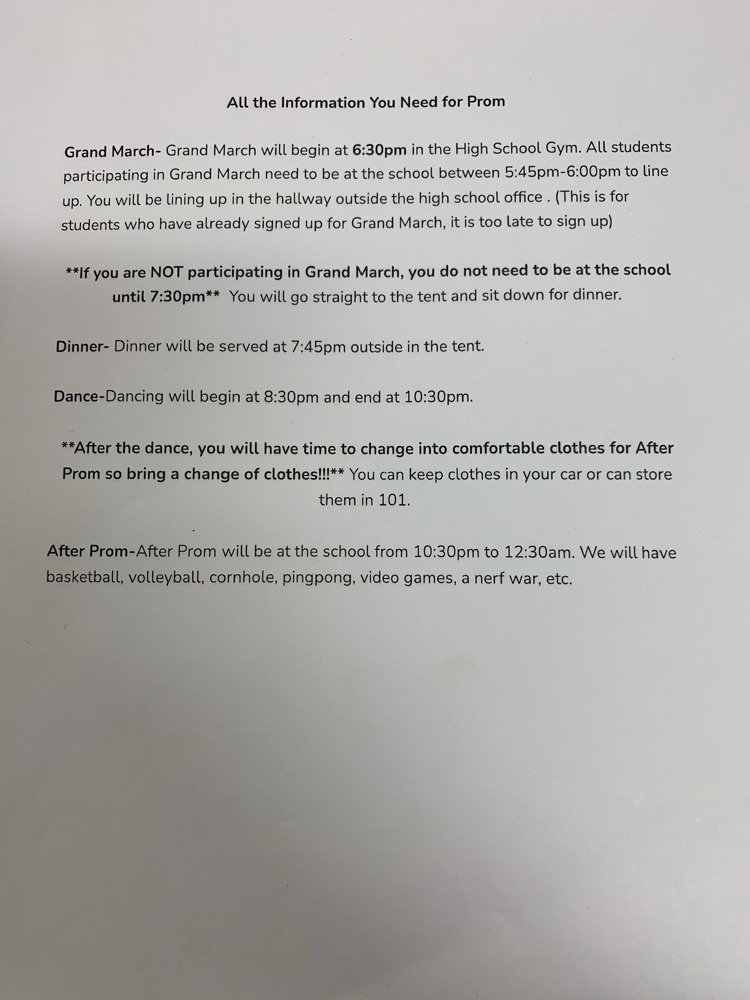 Reminder: Wednesday, May 12th Art Show in high school gym from 5-7:00. Art is displayed from all students, K-12th grade. The 6th grade band will perform at 5:30 followed by the high school band. Everyone come out and support these talented students.

Lorie Henderson's bus will be arriving home about 30 minutes late. I apologize for the confusion. There was a scheduling conflict. Student should arrive home about 30 minutes later than normal.

Bus 8 students will arrive home at different times this week that normal due to Leeth Creek being closed.

This is a reminder for all students and families of students that are participating in Grand March this Saturday. The list for Grand March has already been finalized and there will be no late additions to grand march. Grand March will begin at 6:30 PM in the high school gym. Students must be at the school between 5:45 PM and 6 PM to line up for grand march. Doors will be opened at 5:45 PM for families to enter and tickets must be presented at the time of arrival. The names of people planning to attend must be returned to the school tomorrow, Tuesday, May 11. A letter, along with the tickets was sent home with your student last Thursday. Students who are not participating in Grand March do not need to be at the school until 7:30 PM. After prom will end at 12:30 AM. Masks must be worn and all COVID guidelines will be followed during Grand March.

May 31st is the last day to order a yearbook. Senior yard signs are in. Please pick them up in the high school office. This year, seniors can take them home and put them in their own yards.

Students who live on red Bridge and McCoy Road will be excused from school today

The Western Indians spring flower sale is going on now! Order today! There are 10 inch hanging baskets for $15. Petunias in solids or bi-color, geraniums in pink and red. *To order your basket call 740-493-2514. Ask for Rachel or Ms. Gast. You can also message the high school Facebook page to order. *Pick up is at the high school May 6th and 7th until 6 PM. Payment is due until the time of pick up. All proceeds go to benefit our western high school and junior high students. *Pictures of the flowers were posted on the high school page and district page this morning if you would like to see an example of what they will look like. Thank you for supporting our students we couldn't do it without you!

Just a reminder that there is no school tomorrow for students. It is a staff professional development day.

This message is for students in grades 7-12 who plan on playing sports next school year. Students may pick up a sports physical form in the high school office. All students must have a physical in order to play any sport next school year. The sports physicals are available for free until May 31st. This opportunity is provided by our SOMC Western family practice office located at the back of the elementary building.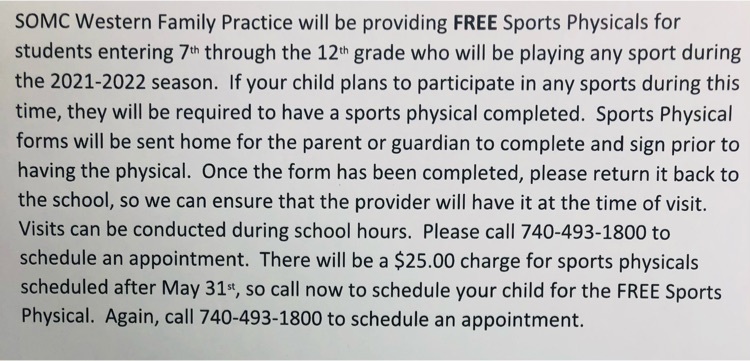 The deadline for senior parents to turn in the guest sign up sheet form for graduation has been extended to Friday, May 7th! AND Reminder: Prom tickets must be bought by this Friday, May 7. There will be no tickets available after this date. $33 for a couple, $18 for a single.

This message is regarding bus 14. There's a tree down on Davis Road and Kelly is waiting for it to be cleared out. If your child rides bus 14 and is not home yet they will be home as soon as the tree is moved.

Reminder: Any student who plans to participate in College Credit Plus through Shawnee State University for the 2021-22 school year, must apply by the May 1st deadline. This is for students who are currently participating at Shawnee and will be participating for the first time. Shawnee State University requires that all students apply every year.

Flowers just in time for Mother's Day!If you would like to order call the high school office and give us your name, how many you would like to order and what colors! 740-493-2514 All proceeds benefit Western students!

Career fair at the Pike County Fairgrounds. May 19th from 5pm-7pm!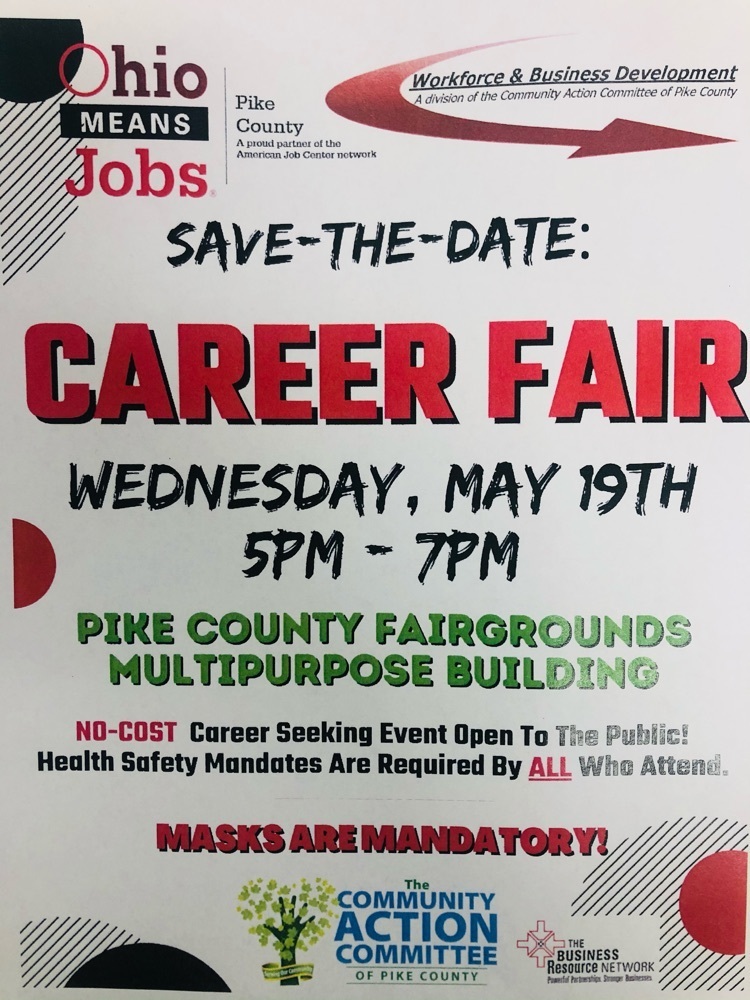 Debbie is running approximately 15 to 18 minutes late. She's on her way now.