WHS students - Atomic Credit Union: Student-Run Credit Union at Western will at the High School during lunches on Wednesday. If you would like to make a deposit or open an account you may do so at this time.

Just left the school with the other bus. Should be approximately 40 to 45 minutes later than normal on finishing the route

This message is for bus 18. Teresa is having some mechanical problems and waiting on another bus to swap her out. Probably going to be around 45 minutes later than normal. As soon as I get a more exact time I will let you know.

We would like to remind you of our PreK-3rd grade Parent Night being held on Tuesday, September 27 from 5-7 in the elementary cafeteria. We hope to see you there!


Weekly athletic schedule 9/26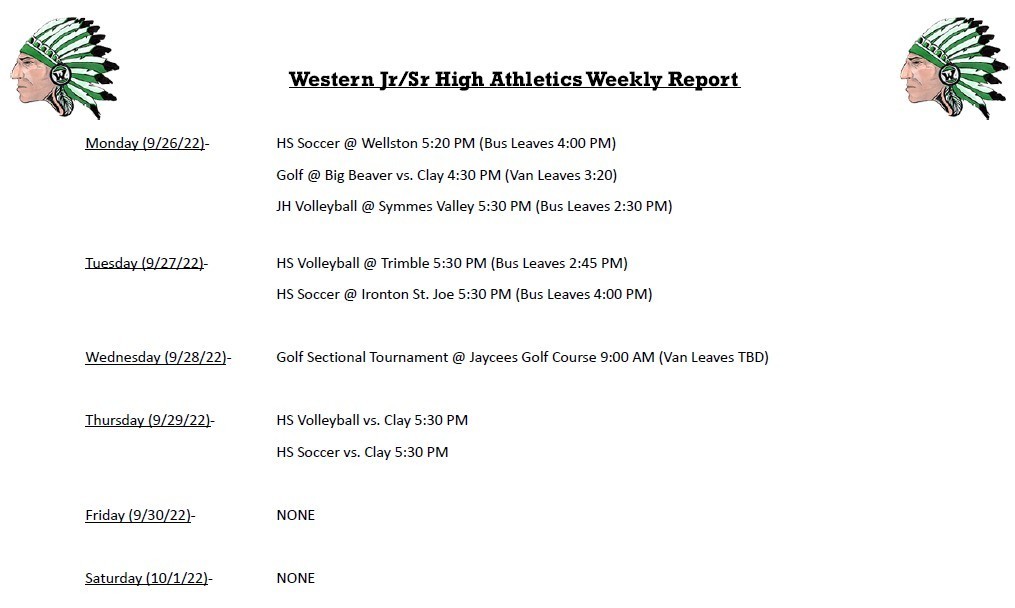 Just a reminder that all external position postings for Western Local Schools are posted on our website.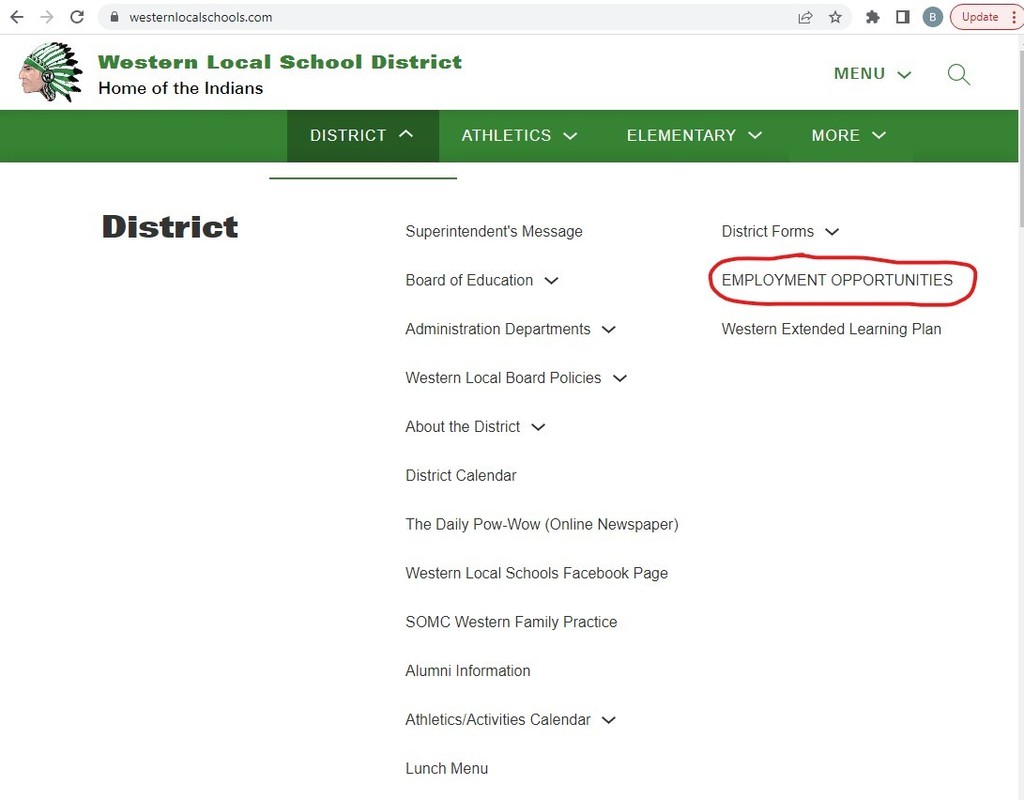 Marvin will be picking up Brandis his kids. He is leaving the school now. First pick up should be approximately 8 o'clock.

I just sent a voice call that hopefully went to all of bus 5's students. Just got a call from Brandis that she is unable to drive this morning and both of our subs are already driving. We are going to have to double route for bus five this morning. As soon as the first bus gets to the school we will unload and send it back out to pick up her kids. That bus should leave the school at approximately 735 with the first pick up around 8 o'clock. I will send a message confirming the approximate first pick up time. Thank you and I apologize for the late notice.

Atomic Credit Union: Student-Run Credit Union at Western Primary & Elementary will begin on Wednesday, September 21, 2022.

I just sent a one call. I apologize that I had to send to everyone but we are still working on updating our new bus lists for this year. We have to double route bus 14, Kelly May, this afternoon. Penny May is going to run her route and then come back and pick up bus 14 students and take them home. The students will arrive at home approximately 30 minutes later than normal. Again, I apologize for the late notice.

Bus 14 is moving and dropping off the rest of her kids

Join our Parent Teacher Organization We will hold our first meeting of the school year on Thursday, September 1 at 3:15 in the Elementary Cafeteria.

Bus 14 is currently stopped on Morgan's Fork Road due to a tree across the road and as unable to get through. The crew is on its way to remove the tree. Students cannot go through or under the tree to get to the other side and there's no place for parents to turn around coming in from the backside. We hope to have the bus moving soon. Students who live on the upper end of Morgan's Fork, 772, etc. are still on the bus
Youth League Volleyball practice Friday Aug 26th 3rd/4th grade 5:00-6:30 JH gym 5th/6th grade 6:00-7:30 HS gym Practice schedules will be given out at the first practice tomorrow.

I always hate to send calls during the school day because it's so early in the school year I was afraid if I just called one bus list we would miss someone. We have tried to figure out all day how to avoid double routing a bus but we have a bus driver who is sick and now available subs for today. We will be double routing for Kelly May's bus 14. Kelly's students will be leaving school approximately 25 to 30 minutes later than normal. Those students should be leaving here at approximately 325 and Penny May will be dropping them off. Again, I apologize for the inconvenience that this ended up being our only solution. Thank you.
Fall sports pictures for JH and HS will be on Tuesday, August 30th. Coaches will be passing out picture forms.

Athletic schedule 8/22-8/27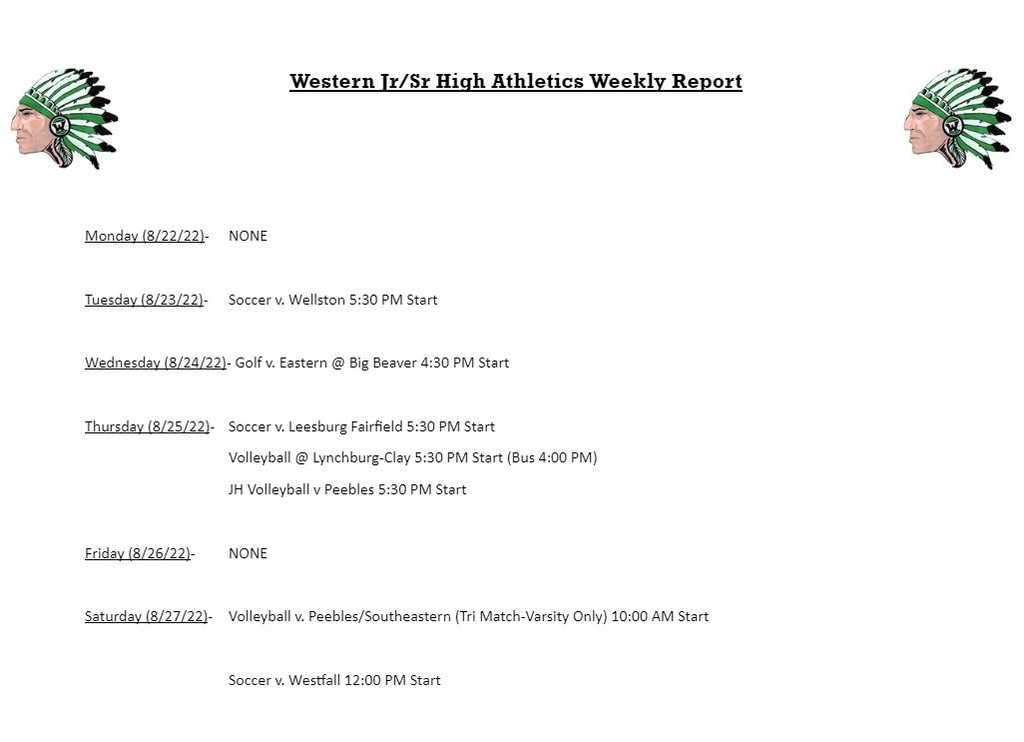 A couple of volleyball time changes: The home game on 8-20 will now start at 11:30 and not 11:00 The game at Lynchburg on 8-25 will start at 5:30 and not 5:00
Due to Piketon having a scheduling conflict, the high school soccer game scheduled for August 20th has been moved to Tuesday, September 13th at 5:30.