Sports pictures are canceled today. Sorry for the late notice.

Doug Cox bus one is running about 15 minutes late because of a tree down that he had to go around. He is on his way. First pick up should be 10-15 minutes later than normal.

Sorry for the second message but I want to clarify something about symptoms. Our school nurse said if your child has severe allergy symptoms or any other Covid symptoms to contact your healthcare provider that you normally would go to and just let them know what's going on and take their advice. They know your child's medical history and tendencies better than anyone else. That keeps everyone operating safely.

I did send a lengthy message regarding some Covid issues. We are back to school as normal tomorrow. The gist of the message is that masks are certainly not required but masks are a way to keep your child from having to be quarantined if they are in contact with a Covid positive student. Please do not send your child to school if they have any symptoms of Covid or a respiratory issue or severe allergy symptoms. Covid symptoms are much like other illnesses so please be diligent in making sure you are not sending your child to school if you even suspect that they are sick. We are looking forward to having your kids back tomorrow morning and we will do our very best to keep them in school.

Chris Martin's visitation will be on Saturday from 3 to 6 PM in the high school gym.

They are in the process of hooking up the chiller right now. We couldn't schedule electricians until the chiller was here. They will be here first thing in the morning. We will not have school tomorrow but we will be on schedule for Monday.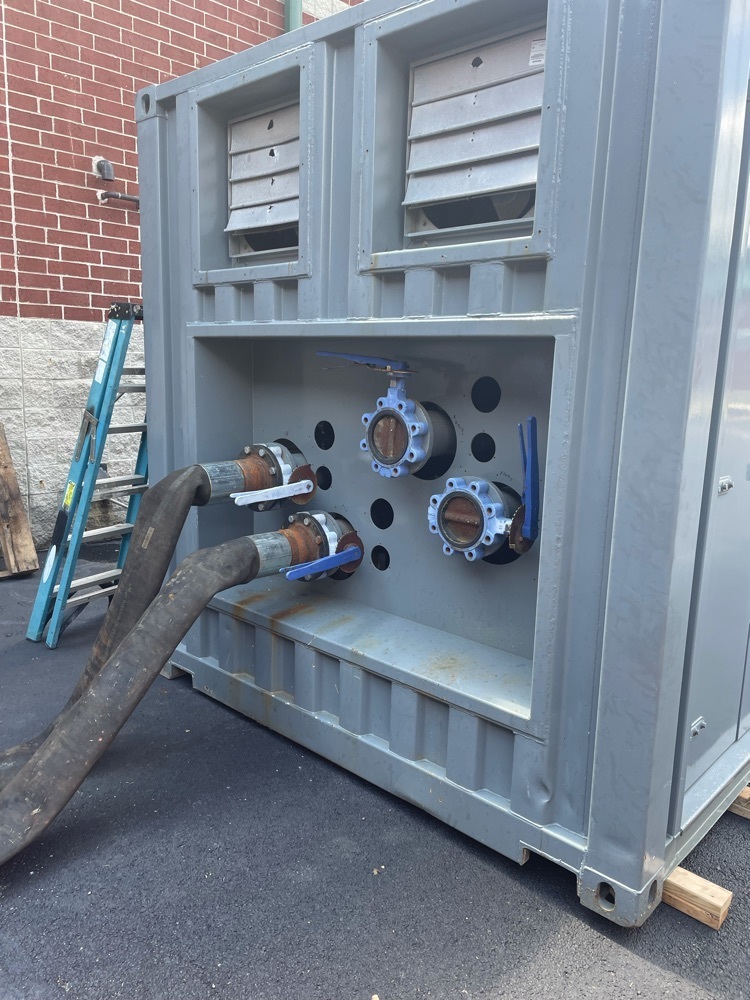 Due to COVID testing at West Union, tonight's football games are cancelled. The soccer game is till on for a 5:30 start at Western. #tribepride

The CTC bus will leave at 7:45 and return at 2:45.
Any high school student who is interested in running cross country please call Mr. McClay at 740-835-1198.
Due to illness in other schools the HS Football team will be traveling to West Union Thursday August 26th to play West Union. They will play immediately after the JH Football game (approximate start 7:30). Saturday's home game against Southern Buckeye is cancelled. #tribepride

I just left a voice call with the same information. We will not have school for students on Wednesday or Thursday. Still holding out hope for Friday. I apologize for the inconvenience.

Any CTC student who wants to go to school on the days we are closed for the air conditioning problem be at the high school at 7:40 and Penny will take you to the CTC. She will be back at 2:45. Please make sure parents are there to pick you up. We will not be able to pick you up or take you home.
Fall sports pictures will be Tuesday, August 31st. Coaches will be passing out picture packets to athletes. If you have any questions please call Rachel at the high school at 740-493-2514. Thank you.

I just made in one call but I know not everyone gets the one calls. We will not be having school tomorrow for students. I waited as long as I could to get as much information from the guys working on the chiller but we know there's no way we're going to have it finished by Wednesday. I am hopeful for Friday. We are at the mercy of parts and the guys doing the work. We have to bring in a crane to unload a temporary system. It's a really big job and we will have it done as quickly as possible. We are doing meals for pick up for each day we don't have school. If you want to pick up lunch for your students tomorrow contact the elementary or high school offices or message either building on Facebook.
There will be high school and junior high soccer practice tonight from 5:00-6:30.
The cross county meeting has been changed to 4:30 due to the soccer game being cancelled.
Junior High and High School volleyball practice for today is canceled. Also, the high school soccer game tonight at Fairfield is canceled. We are working on a reschedule date.

Here is our athletics schedule for the week of August 23-28.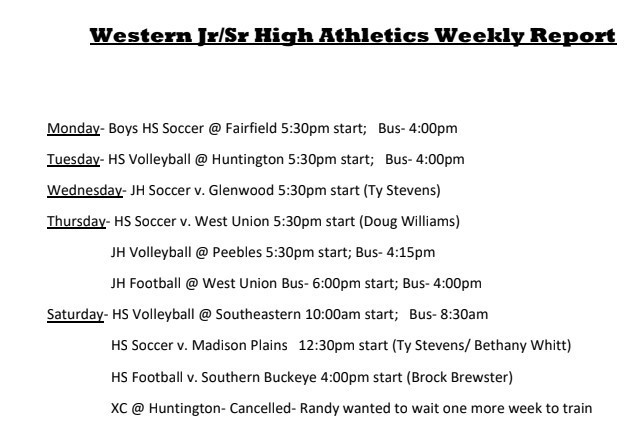 Attention cross county students. There is a mandatory Cross country meeting for today, Monday Aug. 23rd at 3:30 at track field.

With a forecasted temperature of 89° tomorrow and our lack of air-conditioning and lack of windows that will open more than 6 inches we are going to cancel tomorrow for students. Staff will report as normal tomorrow morning and the workday may be adjusted based on inside temperature. All Western students including CTC students will be excused tomorrow. The portable unit is supposed to be on site tomorrow morning. I will update everyone as soon as I get information about completion.