Sophomore hands on day

High school schedule March 22nd- 26th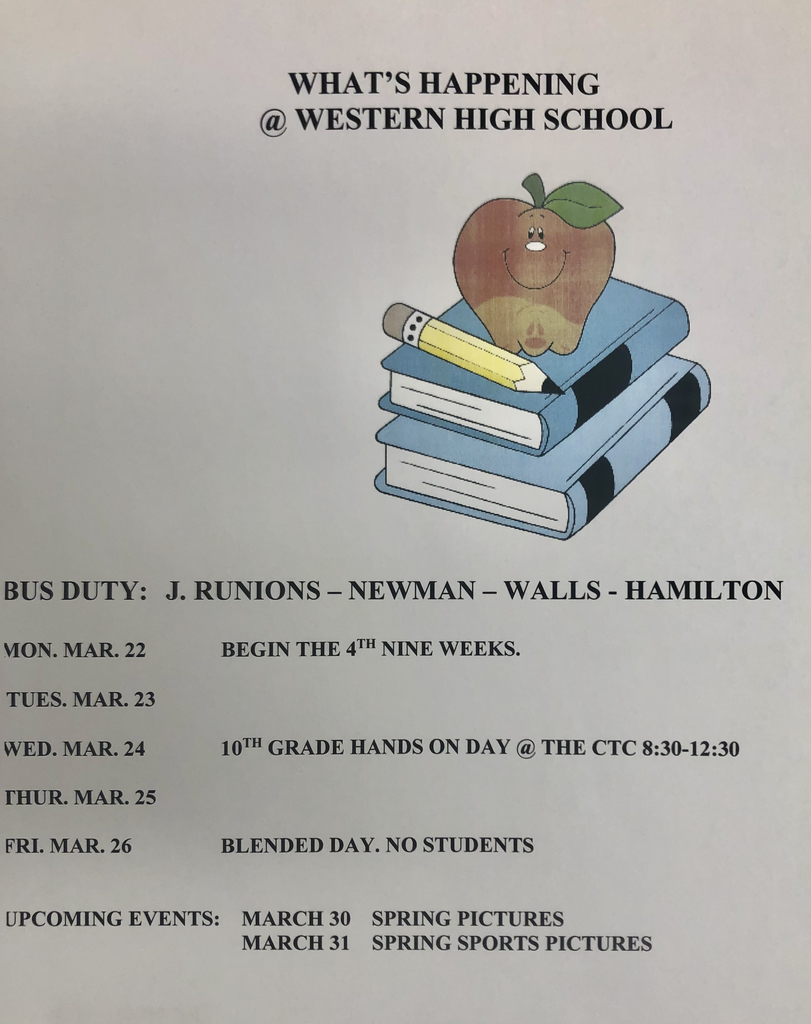 Seniors: please pay for your cap and gown orders ASAP. If you need to know your balance, please call. Thank you! Mrs. Schuler
Soccer sign ups for grades 2nd-6th ends Saturday. All players will have their first practice on Saturday, March 20th at 10:00 at the high school field (inside the track.) If you have any questions, please contact Tim Remo Remington at the school (740-493-2881) or through Facebook.

WHS 2021 Prom will be May 15th

Western High School Prom "A Night of Nights" Tickets- Tickets will be available starting March 22 and will end May 7. Tickets will be $33.00 for a couple and $18 .00 for a single. Please indicate whether or not you want to participate in Grand March at the time you purchase tickets. There will be no tickets available after May 7. Grand March- Grand March will begin at 6:30pm in the High School Gym. Both sets of bleachers will be available for families to attend observing social distancing guidelines. Grand March will end around 7:00pm and there will be an additional 30 minutes to take pictures. Dinner- Dinner will be provided for the students from 7:45-8:30pm. The menu will be pulled pork, pulled chicken, mac and cheese, baked beans, veggie tray, chips, drinks and a dessert. Dance- The dance will begin at 8:30pm and will continue until 10:00pm. After Prom- After prom will be at the school from 10:30-12:30am. There will be a variety of different activities for the students to participate in following social distancing guidelines. **All activities will observe the CDC's guidelines for events**

Attention Juniors and Seniors!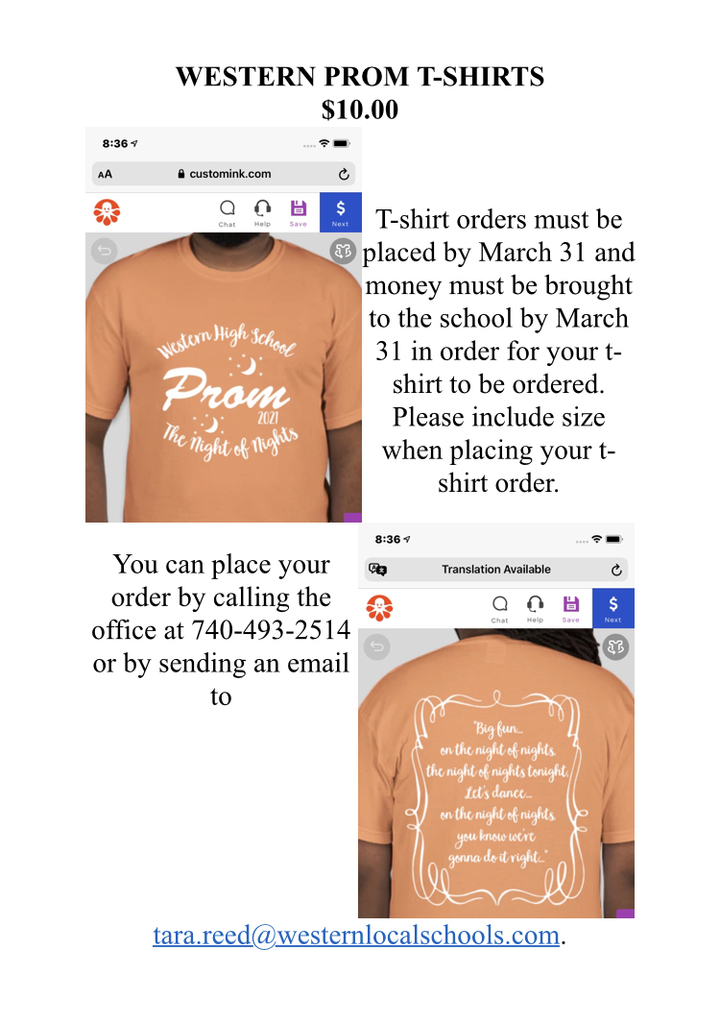 There has been an auto accident at the intersection of Green Ridge Road and 124. We have not been informed yet of road closure but please be advised it could affect buses and kids could get home late. If we find out for sure the road is closed we will send another message
Primary and elementary families: Reminder on pick up and drop off procedures. If you drop off your child from 7:40-8:00am you must use the back circle drop off, not the front elementary entrance. This is causing a back up of cars, making it difficult for staff to get in the building. Also, if you arrive before 2:30 to pick up your child, you need to park in the back parking lot, not the circle. You can begin parking in the circle at 2:30.

Bus one, bus 17, and bus 14 may have students that are late getting home today due to having to reroute.

There are some fires one a couple roads today. One on Morgan's fork and one on Lapperell. This will make some of the students get home late today because we have to reroute the buses to get around the road closings.

Western Local Board of Education meeting 3/8 at 6pm in Room 101.

Bus five is running about 20 minutes late. It is on its way.

Penny May's bus 12 is having some minor mechanical issues. Adam is on his way out there to fix it right now. She should be started not much after he gets there. She will be running approximately 30 minutes later than normal.
Western Summer Youth League T-Ball, Softball, and Baseball Sign-Ups, Saturday, March 6th, 8-11 am in the JR High Bubble. This will be the last sign-up. If you can't make it, contact Becky Leeth Fite or Kim Hawk .

Reminder: Herff Jones will be at the high school on Monday, March 8th at 8am to pass out graduation items, they will then head to the CTC and pass out graduation items there.

As many of you know we give out power packs as additional nutritional support for any student in need. Due to the pandemic we have more available food boxes than normal. Even if your student is not on the list to receive a power pack please know that if you or someone you know is in need of non-perishable food items you can let us know and we will arrange for you to get it. Call us at 740-493-3113 or send a private message on Facebook to make arrangements.

High School Schedule March 8- March 12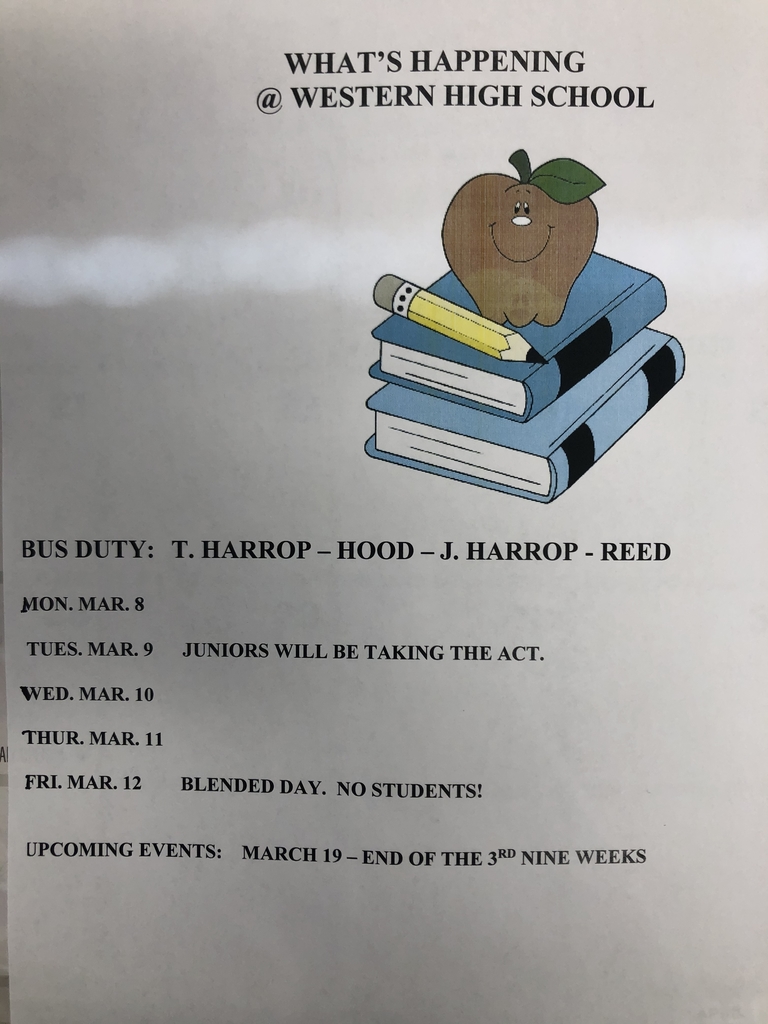 It appears that the tickets have already been sold out for tonight. I checked at noon and it says our code is sold out. There should've been at least 30 additional tickets left after all athletes were given their codes. It is possible that someone used our code from the last game and somehow ordered tickets early. I did not give our code to anyone prior to noon today so anyone who purchased tickets with the exception of athletes and coaches did so without consent from us. We did not give the code out to anyone prior to 12 o'clock today. Unfortunately, it is a faulty system that we cannot control. We fully expected to have at least 30 tickets available at noon today.

Spirit Day tomorrow in support of our boys basketball team going to play in the district tournament. Wear your green and white!